Celebrating 20 years as your florist, thanks to you all our wonderful customers for making this possible!! W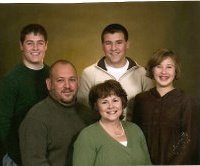 e pay special attention to detail that is why we are the only florist you will want to use. Home to the personalized wind chimes, photo engraved granite tiles & ornaments.
We have the freshest quality in floral arrangements, plants. Unique sympathy tributes. Keepsake and lighted angels, garden stones and figurines, versed & scenic or spiritual throws, inspirational frames, webkinz, musical balloons and so much more...Wedding flower specialist. Fresh and silk flowers. Custom Designs.
Our large delivery area includes Anna, Botkins, Jackson center, Kettersville, McCartyville, Minster, New Bremen, New Knoxville, Sidney and Wapakoneta. Please check us out on our personal site also www.jennysdesigns.com We Ship UPS DAILY!!